It's featured artist week at Tweek! Meet our super talented, paper-pepperin', collage-makin' friend Lesley Easton! Read on!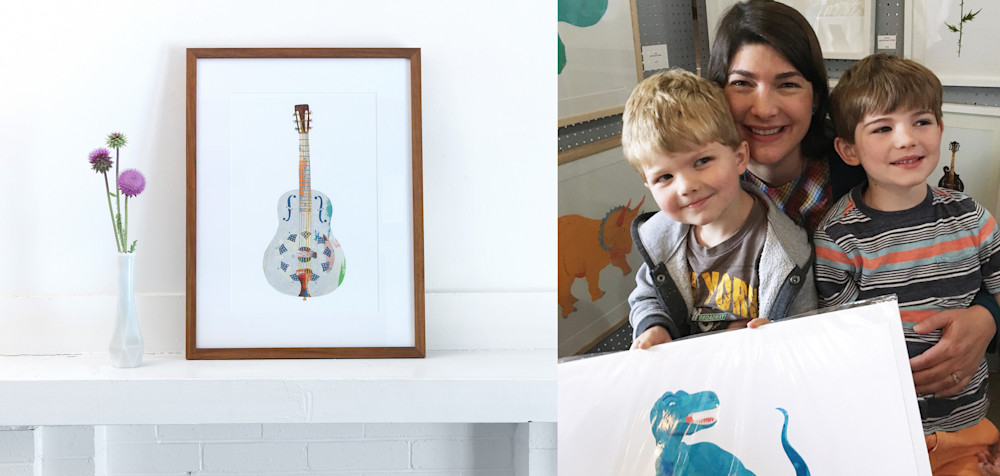 I bet you thought we'd never introduce you to another artist didn't you?!1 Do you have no faith in Tweek? Come on guys. Ya'll can always rely on your friends at Tweek.
Now, onto what we really want you to read about today…Peppered Paper2! We love Lesley's clean, yet chaotic, work. How she can handle working with such tiny pieces of cut paper for long periods of time blows our minds but she loves it! And thank goodness because the world is a better place with Peppered Paper! On to the interview and more photos of her work!
TI: So, your work started with scraps of paper painted for other projects during art school correct? Are you painting paper specifically now for Peppered Paper?
LE: My "peppered paper" is a collection of butcher paper that was used as drop cloths to catch all of the spills, splatters, and brush strokes as I painted. It's filled with haphazard markings and texture and lots of color! I love incorporating this paper in my recent collage work, but I've never limited myself to only using this scrap paper. I will often add other papers I've painted or paint on top of this paper if I want a specific color- the dinosaurs of a good example of this. I painted lots of paper for them because I knew I wanted to use specific bold colors, and the somewhat intentional by-product of painting more papers is more "peppered paper" on my drafting table.
TI: What was the piece you made that inspired Peppered Paper?
LE: Well, as typically happens, my style evolved very naturally and intuitively. I started working mostly in painted paper collage for children's book illustration. It's where my "peppered paper" drop cloth scrap paper came from. I painted lots of papers, lots of bright colors for this illustration work. My first official "peppered paper" piece was actually created for a silent auction fund raiser for a food pantry. I wanted to donate a piece of original art that was more accessible to the attendees at a wine and cheese art auction than children's illustration would have been, and I had been saving all of this exciting paper from my drafting table for a couple of years. I started playing around with my x-acto knives and came up with these wonderfully sharp and delicate leaves and petals creating my first "peppered paper" collage, a blue thistle.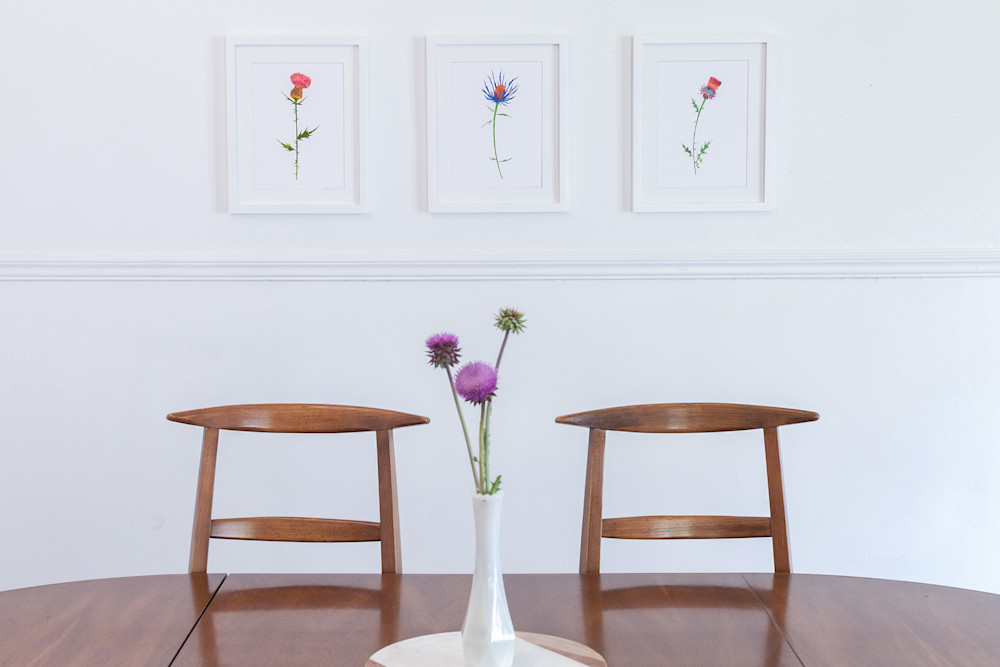 (Photo by Alison McQuain)
TI: What has made you choose the subjects you've made?
LE: The second "peppered paper" collage I made was the old-time banjo. I definitely had this vision of using some of the mostly white butcher paper with a few colorful splatters and brush marks for the white head of the banjo. So, my instrument series evolved from there. The thistle is a good example of the hard and sharp edges I'm drawn to creating with cut paper. I love the juxtaposition of the delicate and sharp, the chaotic painting and super meticulous cutting and gluing. A lot of the subjects I'm drawn to have a sharp edges or points with a kind of gracefulness at the same time: deer antlers, spiky thistle leaves, raccoon whiskers, insect antennae, crustacean claws….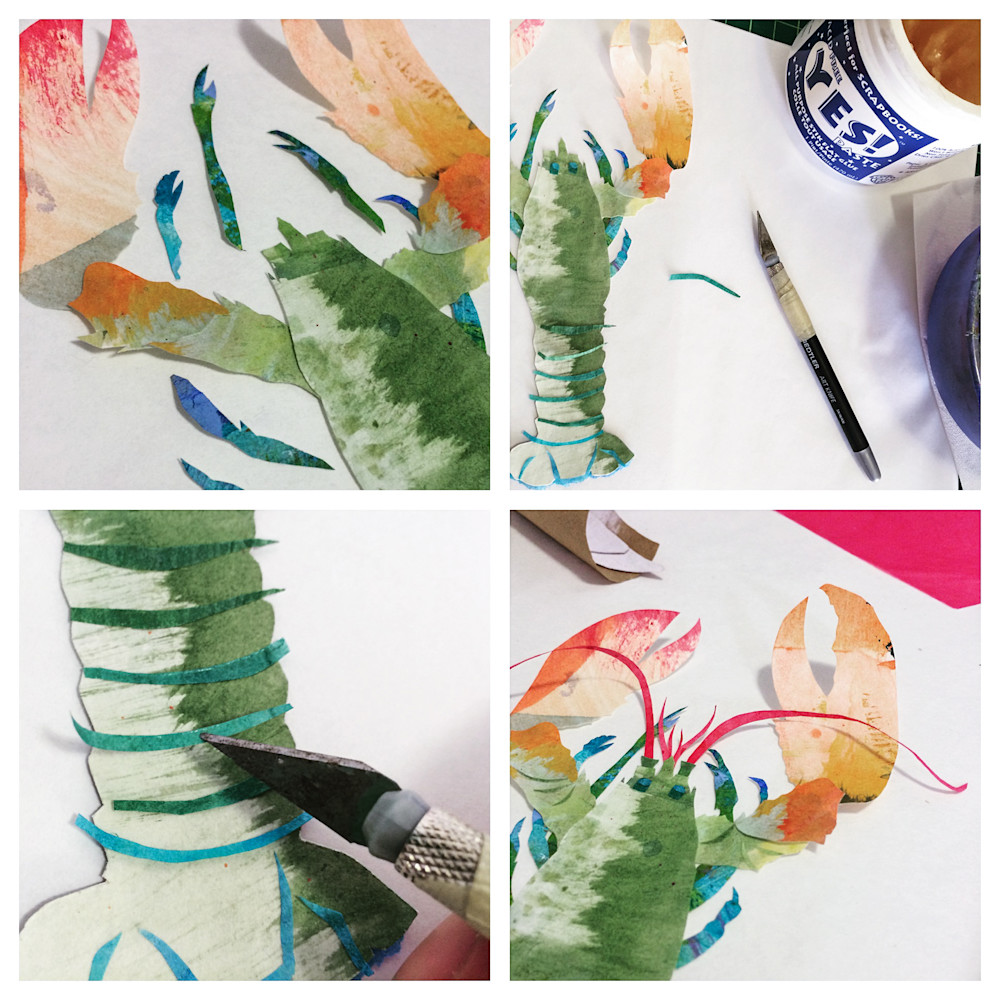 TI: How does your love of book illustration shape your work? Or does it at all?
LE: I'm really itching to get back to more narrative work. It's not the kind of work that sells at silent art auctions ;), but visual storytelling is my true passion. So, as my style continues to evolve I'm excited about experimenting with combining more drawing with my collage work.
TI: What is your favorite part of your process? Why?
LE: That part when my logical brain turns off completely. Some people refer to this as working in flow. It's getting lost in color a lot of times for me- just painting papers, or getting lost in drawing, when I have time. Most often it's getting lost in design, curating and piecing together all of the perfect papers for whatever I'm working on at the time.
TI: Your two little guys are so adored at Tweek, how do they impact your work?
LE: Balancing motherhood and creative work has been a huge challenge for me. Like I just mentioned, my favorite part of creating involves letting my logical brain turn off. This can be tough when time in my studio is so limited, and the mom job is so demanding and exhausting for me at times. However, I'm starting to realize how grateful I am for the challenge, for the drive to push through and keep creating, and really for the affirmation that I should keep fighting to reconcile my calling as both artist and mom.
TI: Is your family involved in the creation or showing of your work?
LE: I loving refer my husband as my manager. And I really need a manager! I'm not so great at details, marketing, following up with people, etc. He's also super creative and handy, so he's built lots of displays and beautiful frames for some of my original pieces. The boys love when mom has an art show now- I'm pretty sure they think all art shows have some type of craft donut or ice cream truck around.
TI: What made you decide to make prints of your originals?
LE: I really wanted to offer a lower price point for people to purchase my artwork. I LOVE when people purchase an original, but, I completely relate to having a lower budget for art and decorating right now. We're slowly adding to our collection of original pieces, but I enjoy the professional art prints I've purchased from other artists just as much, and know that it's supporting their work as an artist too!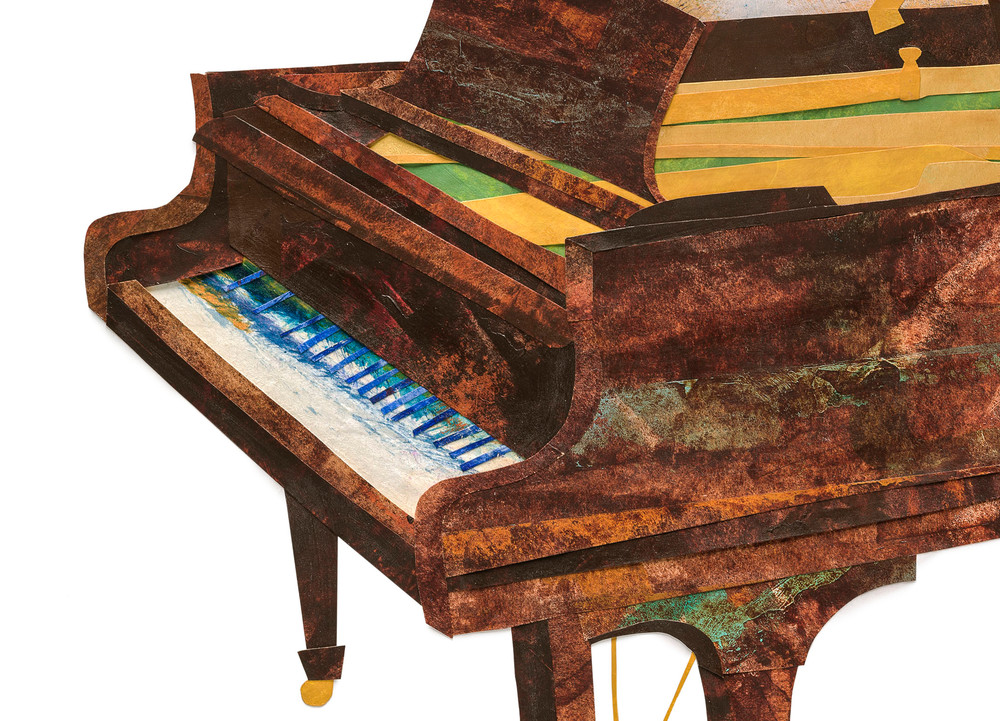 (detail)
TI: What is your favorite aspect of getting your art reproduced?
LE: As much as I love selling original work, I still sometimes have trouble letting go of some pieces. Having my work reproduced and printed feels like I get to keep a little part of the art, so it's easier to see it go, ha! It's just reassuring to me to know that I have my art documented and saved in that way.
TI: Why work with Tweek?
LE: Attention to detail! My work is super meticulous, so you might correctly assume I have pretty high standards for its reproduction, for myself, but also for anyone purchasing my work. I want the reproductions to reflect the quality and craftsmanship I put into each piece. The photographer/printer always gets lots of compliments at show because he does such a good job making sure the three-dimensional aspect of my work is captured. My work is so unique because it's all cut paper, so it's pretty important that this is evident in the prints as well. Tony's also always been great to work with me if I need a quick turn around, and to make sure the colors are "tweeked" just right.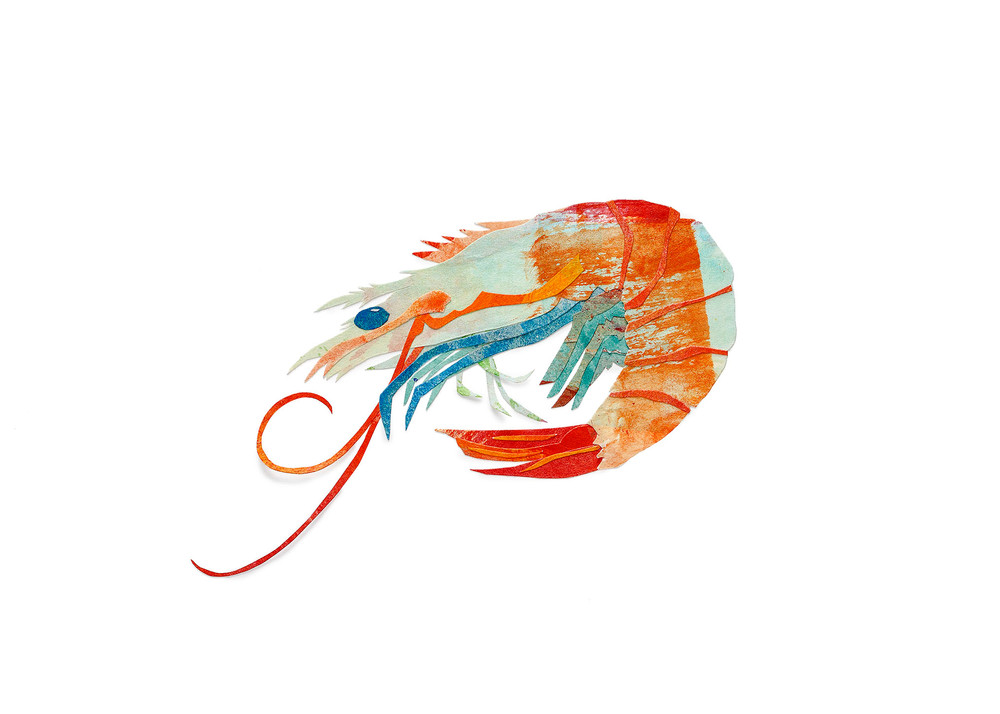 Current inspiration: The Unmistakable Creative podcast with Srini Rao
Current musical obsession: not sure I'd say obsession, but The Hamilton Soundtrack, The Lumineers, and The Tallest Man on Earth are getting lots of play time lately
Favorite meal of the day: Breakfast
Coffee or chocolate: Coffee! but, pregnant lady gets to say both, right?
Footnotes:
1 How much did you love learning about Matt Day the other month? Yea?! Us too.
2 Remember us talking about art reproduction? Well, here is an artist that allows us to reproduce her work!