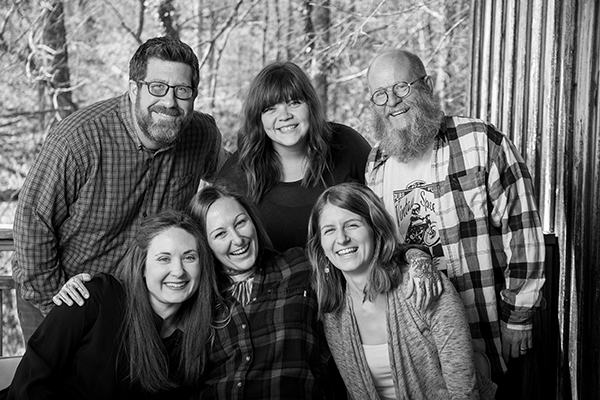 ya'll!1
So you're checking out our blog. Curious to see what Tweek Imaging has to say for itself? For starters we're gonna get you up to speed with who we are and why we are here. Sit back, grab a cup of espresso or a cold one (both Tweek staples) and spend a few minutes with your new BFFs.2
Tweek Imaging. It was formed by Tony Long in 1999. After years spent in lithographic print houses, Tony saw a need for color correction, scanning and graphic reproduction3 all served up with loads of personal attention. Scanning and mean photoshop throw-downs began in a small room of Tony's house.
Fast forward 16 years and Tweek is still within walking distance4 of his home but the scale of business and focus has changed a bit. In the last five years Tony has added more hands as the workload has grown. Walking into the Tweek pad you'll still see scanning, digital retouching, and color correction going on…you'll also see multiple high-end, large-format printers; shooting stations for commercial photography; plus enough digital and analogue photography equipment to outfit most of Knoxville.5 Now you gear-heads may be dying to know all the gritty details: what brands, possible resolution sizes, largest print sizes…good things come to those who wait. We can't tell ya'll everything in our first blog post! What fun would that be?
So if we're doing work for global companies why aren't we in one of those global cities? You must have never been to Knoxville. As is the case for most small, southern towns, our downtown has seen revival, our restaurants are run by nationally-recognized chefs, our arcade in town doubles as a barcade, our favorite bakery is now known by all 50 states, our favorite places to drink beer are local craft breweries, our national park is visited by over 10 million every year, our brunch is top notch. On top of all of that, when we go downtown or even to the Smokys we see friends and make new ones. It's the perfect town for Tony's three kids. One of his daughters may be grown now but she still loves visiting her hometown. You may leave Knoxville but Knoxville doesn't leave you. Just like Knoxville, once you place an order with Tweek you won't even consider cheating on us.
1Colloquial saying all southerners use that will become part of your vocabulary thanks to your new friends in TN.
2Obviously, Best Friends Forever
3Graphic Reproduction: capturing/photographing art for digital printing
475 steps from his house to be exact. And about 32 steps from his vintage bikes and convertible.a Allows for lots of pet therapy thanks to the three Long family doodle mix pups.
5Brief hipster must knows of knoxville — we've got the best bakery, quality coffee shops, smoky mountains, best brunch, growing craft brewery scene, fantastic letterpress shops, Big Ears music festival, urban farms, distillery right in the heart of the city, BBQ, and lots more — come visit ya'll!!
aTriumph bonneville, royal enfield, a few vintage Japanese model motorcycles and a triumph spitfire sportscar