Where y'at?1
Today Tweek is taking you on a virtual trip. Don't worry, it's technically a business trip so you can count reading this as professional development. Y'heard?2 Mentally expense it.
A couple of months ago Tony got in the car with his Hasselblad Xpan, Fuji XPro and iPhone and headed to the Deep South for about 36 hours. His final destination being New Orleans for the Scitex Eversmart Pro scanner we now have in our shop. Before we get to the Scitex and how awesome it is to have in our arsenal of equipment let's take a quick trip with Tony.
First off, talk about a street photographer's dream…. New Orleans has beautiful architecture, quirky shops, a fantastic gallery3 as Tony found, and a few characters4. You can't go to NOLA without walking the streets, eating all the food, and experiencing some late night jazz. Tony's first stop was the Bourbon House for a heaping plate of sea creatures…with a side of brown liquor. Then of course comes night-life. Like a true pro, Tony ventured out around 10pm. Have camera will travel. And by travel we mean walk the streets until the wee hours of the morning.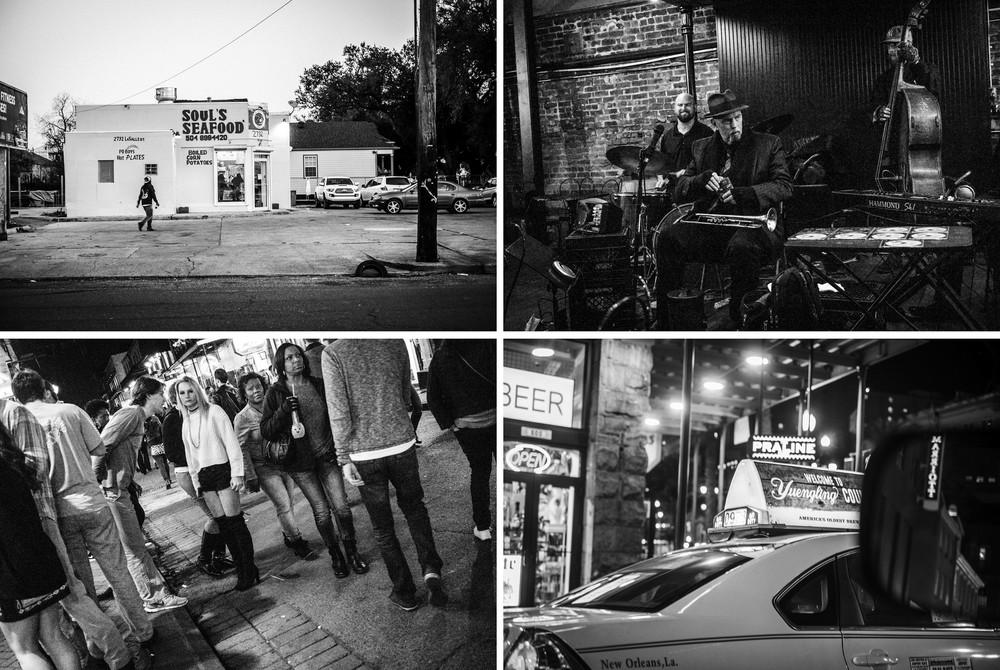 The next 12ish hours were spent sipping a Bloody Mary and sampling Beignets at the classic Cafe du Monde followed by a long walk to meet Richard Sexton for dinner at St. Roch Market5. You've really got to check out Richard's site. Such an amazing body of work he has collected over the years. One other thing he collected was the Scitex scanner we mentioned earlier. Richard originally used the scanner for his film and especially for books he has published–one of those books centered around life in New Orleans.
The life of the Scitex in the Tweek studio won't be terribly different than it's previous life down south. Well, one thing is different. A significant portion of the body of the Scitex shattered while Tony lightly braced himself during set-up at Tweek. Plastic from 1998 doesn't hold up so well we found out. However, our old Scitex that decided to bite the dust had all the working parts needed to combine the two machines and rebuild the skin. So, you may be wondering why we are so excited about a big heap of crumbling plastic from 1998. Don't forget it isn't crumbling any more and know that this beast scans film AND reflective art/prints up to 12×17 inches! How awesome is that?! Scitex scanners were used for offset printing files and originally cost tens of thousands of dollars. This thing produces beautiful film scans6 with resolutions as high as 8000dpi! Come on now!
Our Scitex is one of seven scanners at Tweek. One day we will get into the others but today we're pumped to tell you about this 90's fab scanner. We're also pumped to take you on a little mental trip to NOLA. Sorry taste-o-vision hasn't happened yet. Tony wishes he could share the tastes and sounds too. And don't forget, as Tony says, "the best camera is the one you have." Be it film or digital, take photos and then print them. You won't regret it. We're here to help you.


1According to Sunny Dawn Summers this is a New Orleans version of, "What's up." Taking our Southern nicity inspiration from the Deep South.
2Sunny says this means "Do you understand?" "Got it?"
3A Gallery certainly is a Gallery for Fine Art Photography. Tony purchased our Scitex from this photographer who is featured among others you may have heard of…Ansel Adams, Henri Cartier Bresson…. "I had no idea I was walking into greatness," Tony spoke of the gallery.
4Tony may or may not have had a curse put on him after documenting one scene….We know for sure he was yelled at. Stark contrast to all the wonderfully welcoming folks in the city.
5St. Roch was a big hit with Tony. Talk about a comfort food feast…mac'n'cheese, baked oysters, salad…ok maybe the oysters and salad aren't a comfort food for all of you but maybe you should consider it.
6See Tony's Xpan shots…they were scanned with the Scitex.