Ever been curious about the early life of your print before it becomes part of your home? To help you out today we're going to tell you all about the birds and the bees. Are you ready?!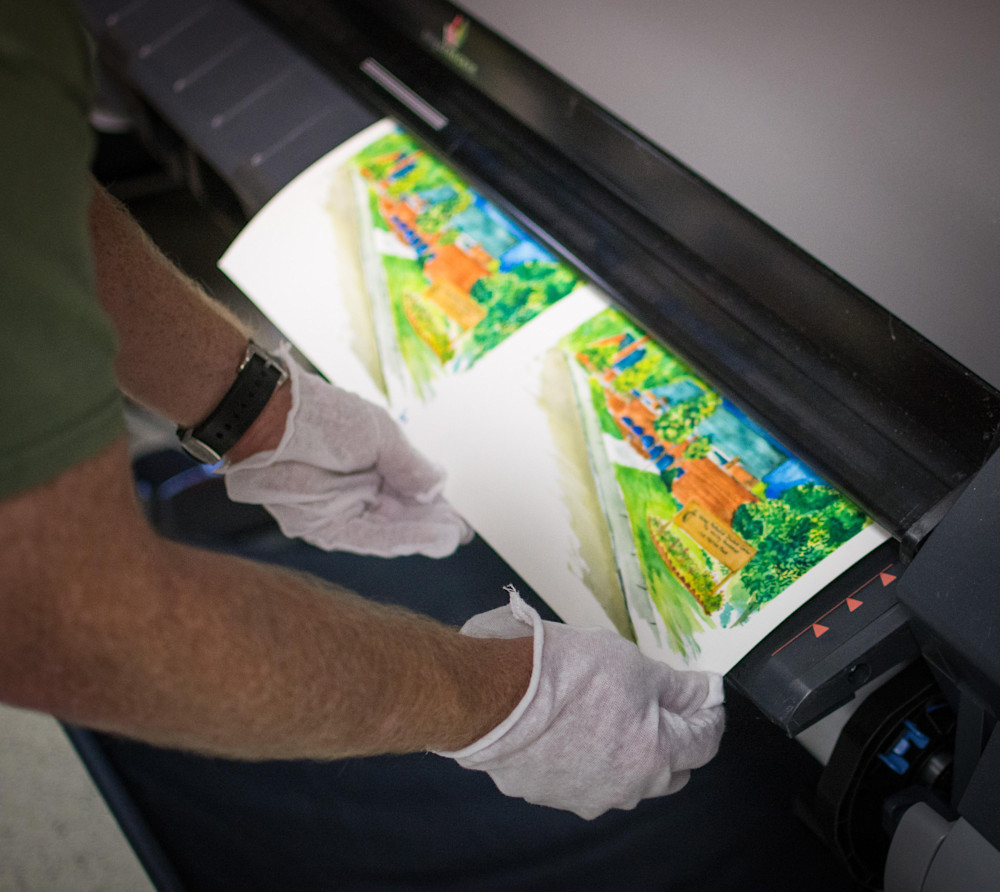 So, you click order (birds) and we receive your order (bees). Done. You can stop reading now. J/K! J/K!
For real though, once we receive your order we (with gloved hands) print it on your choice of paper then…
Your print gently falls from the printer into the print-friendly hammock below the printer. We then grab your print by the edge attempting to never touch the actual image. A lot of times your print will be curled because we are printing on rolls of paper. So the next step is usually de-curling the print. Essentially we are curling it the opposite direction in order to flatten it. Once it is flattened we place your print(s) in an acid free protective sleeve before attaching it to chip board and placing it in your mailing package. Why do we attach it to chip board? To help with rigidity and protect that happy baby. Gotta protect your babies. They dent so easily.
If you're in a hurry to get your print and we are rushing a bit (which is totally cool with us) we will place your print in the acid-free sleeve with a piece of standard bond paper to help the image out-gas before it gets to you to go in your frame1.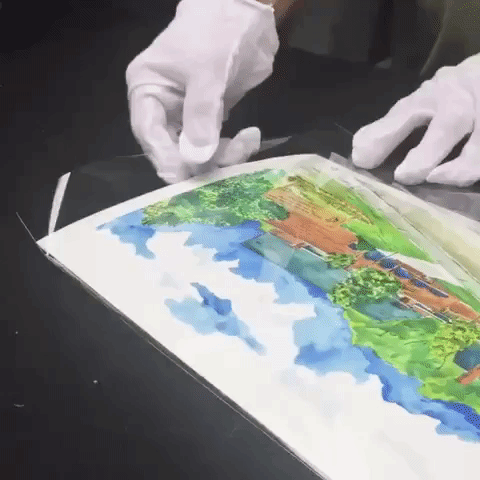 One question we have for you is… 'how long are you going to store your print before framing or hanging?' If it is going to be a while2 we recommend requesting a backing board at checkout. This is going to give your print rigidity and hopefully prevent an 'uh, oh' moment for you. We'd hate for you to be forced into ordering the same print twice. Unless you want to of course.
Another great reason for getting a backing board is if you're an artist and you plan on immediately selling your product or shipping it straight onto your client. We're here to help make your life easier. Remember? If you're going to store this print indefinitely we'd recommend you store your print as we send it then sandwiched between acid-free foamboard.
After all that, baby is placed in the shipping container, driven to the shipping facility and placed in their hands to be delivered at your happy door.
The End!
Oh wait, here are some quick tips:
How you can store your prints (if you aren't immediately framing):
Leave them in the packaging (specifically the acid-free sleeve) you get from us

Store in a flat file box or cabinet
If you're framing:
Use gloves to be sure no oils or prints are transferred

If you want to continue with the archival process we've started for you use acid free mats

You can also use an acid free backing board like foam-core that will keep your print in place 3

Self-adhesive Linen hinging (i.e. Lineco Tape)